Apple Design Inspiration
If you're wondering where Apple's designers got their inspiration from, take a look at the the appliance company Braun's 1970's designs. White housing, minimalistic design, clarity. If you take the time to watch the video with Dieter Rams, former Braun's head designer, you'll see a couple of other designs from the 50's to the 70's that still look great today.
Good design, like good music, never loses its appeal. Use Google translate to read this interview with Rams. He talks about receiving a letter from Jonathan Ive (Apple designer) and a little bit about Apple's and Braun's design principles. Another Q&A with Rams on Designboom.com.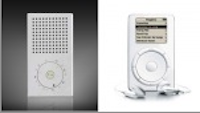 * * * * * * *